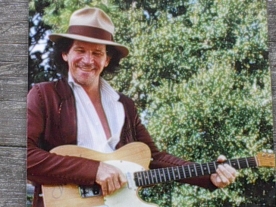 Gary Stewart in Jay's front yard, circa 1992 
 Gary began recording with Jay and his hawkmates in the late 1980s to the  mid 1990s.
Gary was a songwriter extraordinaire and had an immaculate country voice as evidenced by his hits with RCA in the 1970s. Time magazine described him as the king of honky-tonk.  His recordings with Blue Jay and the Hawks of "Wild Horses", "No Expectations"and "Long Black Veil" are featured on this web site.
---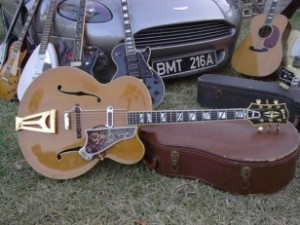 Jay's 1959 Gibson Super 400 he received from Rick Derringer.
Rick had purchased this guitar in 1966 with royalties he obtained from his success with the famous song  "Hang On Sloopy"that he recorded with the McCoys. The song, released on Bang records, entered the Billboard's Hot Top 100 chart on August 14, 1965 and went to #1 in the United States in October of 1965. 
---
Tools of the trade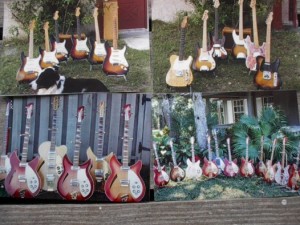 and even more….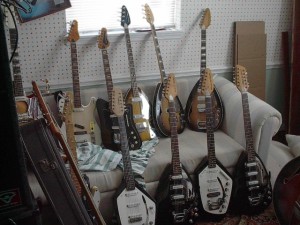 😎  LISTEN TO SOME OF OUR MUSIC  😎
---
All music written and copyrighted by Blue Jay and the Hawks except where designated.
---
(scroll downward to see the entire list)
Ms. Peabody's Hawk Street Rag -blue jay's original composition dedicated to the memory of the beautiful rose haired tarantula who lived from 2002-2016

blue jay and the hawks original composition dedicated to the memory of the beautiful rose haired tarantula who lived from 2002-2016

1:55

Hawkmates Only Refrain Twice-Jay, Bushmonster Bren, Rich, and Tom exhibit some midrange, single coil crunch with their hollowbody electric, original bophop hit.

Blue Jay and the Hawks

1:22

Walk Hawk, Walk- original Blue Jay and the Hawks hit featuring their usual rowdy Hawkly energetic Hawkage

Blue Jay and the Hawks

2:12

Gawk Hawk, Gawk("aber du bist der einzige") - original Blue Jay and the Hawks bophop fantasy trip filled with the Hawks' crescendoesque bophoparama

Blue Jay and the Hawks

1:40

Hey There Little Hawk Pookie-Jay, Bren, Rich, and Tom tickle their original little Pookie puppy monkey baby for their BopHop fans.

Blue Jay and the Hawks

2:13

Fairly Good, Sorta' Bad, and definitely Hawkly-original Blue jay and the Hawks composition reminiscing the time they spent in the Kraver Theatre in 1967 in Henderson, Kentucky

Blue Jay and the Hawks

2:09

Crawl Hawk, Crawl--original Blue Jay and the Hawks bophop shuffle, replete with their bophop aura with a particular cognizance for their bophop fans

Blue Jay and the Hawks

1:46

Scat Hawk, Scat- original Blue Jay and the Hawks quintessential bophop composition featuring Bren, Rich, Tom, and Jay as they fire their 88s in their esoteric bophop fashion

Blue Jay and the Hawks

1:43

Taylgatin' That Gatortayl Hawk- original Blue Jay and the Hawks bop-hop hit, full of their jazzy rifflits and recorded especially for their appreciative fanbase all over the world.

Blue Jay and the Hawks

1:43

Minor Hawk Fling- Blue Jay and the Hawks original with some bophop pizzaz

Blue Jay and the Hawks

2:21

Neon Hawkmates--- Blue Jay and the Hawks original bophop hit featuring their stylistic chordal voice leading

blue jay and the hawks

1:55

Run Hawk, Run- an original Blue Jay and the Hawks composition, with plenty of bophop action, signed, sealed, and delivered to their bophop fans

Blue Jay and the Hawks

2:19

British Bulldog Hawk Blues- original Blue Jay and the Hawks bophop steadfast number showing the Hawks at work in their garage in the Ardennes Forest !

Blue Jay and the Hawks

2:02

For a Few Hawks More- original Blue Jay and the Hawks number reminding them of the free time they spent in Henderson Kentucky's Kraver theatre

Blue Jay and the Hawks

2:15

Trash Traylor Gator Hawk-original Blue Jay and the Hawks bophop special with Brenan Bushmonster Haskett opening with a monster bass arpeggio

Blue Jay and the Hawks

2:02

Hawk Apocalypse- original Blue Jay and the Hawks composition with Bren, Tom, Rich, and Jay mulling over their bophop muse

Blue Jay and the Hawks

2:03

Forrest the Parrot Hawk-original blue jay and the Hawks hit penned and dedicated to Forrest the Parrot

Blue Jay and the Hawks

1:19

Hawkloween- original Blue Jay and the Hawks composition done in their original scary bophop fashion

Blue Jay and the Hawks

2:04

Groovy Hawk-original Blue Jay and the Hawks featuring Bren, Rich, Tom, and Jay and featuring their counterpoint voice leading with respect to their guitar blending

Blue Jay and the Hawks

2:00

Bottom Feeder Hawk Blues-original Blue Jay and the Hawks snazzy hawktune

Blue Jay and the Hawks

1:28

Hawks Don't Mean to be Mean(that's what I mean)-Bushmonster Bren, Jay, Rich, and Tom delve into the minor mode for some bophop fun with their original mean bophop muse.

Blue Jay and the Hawks

2:14

Hawkmonster- some BopHop single note fast action frames per second BopHop original

Blue Jay and the Hawks

1:32

Taylor Loop Roadhawk-Brenan's ambulating Bushmonster bass reverberates Jay's guitars in this classic original Blue Jay smash hit when they recorded on the "Finch" label in the Ardennes Forest with the Flak 88s in the background noise !!!

Blue Jay and the Hawks

2:10

Ballad of the Parakeet Hawk Babies- Blue Jay and the Hawks bophop their brisk original penned hit

blue jay and the hawks

1:42

Vampyre Hawkmates of the Night-original Blue Jay number that is mindful of Dracula's famous quote- "Listen to Them, children of the Night. What Music they make".

Blue Jay and the Hawks

2:30

Hawk on my Shoulder-another bluejay original

Blue Jay and the Hawks

1:53

All aboard the Fair Park Hawk Express -original Blue Jay number featuring the magnificent Tom Lehr on drums

1:55

BopHop Hawk DeLighT-original Blue Jay midrangy show popper

Blue Jay and the Hawks

2:23

Thunderhawkfinger-blue jay and the hawks original suspense composition with 1960s spy thriller mystery terror influence

Blue Jay and the Hawks

1:59

AN ODD Hawk coolcat- Listen to Bushmonster Bren's walking bass lines in this Blue Jay BopHop original featuring Tom, Rich, Bren, and jay

blue jay and the hawks

1:35

Hawk Booger Boogie-original BopHop BlueJay number

Blue Jay and the Hawks

2:30

Turtle Pond Hawk Rag-spanky original blue jay number

Blue Jay and the Hawks

1:23

Special Hawk Ingredient, it's in everything Mama make-original blue jays

Blue Jay and the Hawks

2:09

Take Five by Paul Desmond-Blue Jay and the Hawks arrange the Dave Brubeck instrumental hit of the early 60s, in their bophop style, of course.

Blue Jay and the Hawks

2:49

Wild Horses by Mick Jagger and Keith Richards-Vocals by Gary Stewart

Blue Jay and the Hawks

4:46

No Expectations by Jagger and Richards-Vocals by Gary Stewart

Blue Jay and the Hawks

2:44

Leave The Note-original Blue Jay and the Hawks with Vocals by Gary Stewart

Blue Jay and the Hawks

2:00

Pampaw's Garden-original blue jay popper

Blue Jay and the Hawks

1:30

Old Blue - Traditional-Gary Stewart didn't make this session so Bren sang with Jay double tracking his stringbender through Clarence White's original blackface Vibrolux Reverb.

Blue Jay and the Hawks

2:55

In Private-original Blue Jay number written by Richard withVocals by Richard Haskett

Blue Jay and the Hawks

2:08

Honky Tonk Angels- Jay's original from the 1971 group "Redbanks" featuring Jay, Charles Whittington on bass, and Rick Jacobs on lead guitar.

Blue Jay and the Hawks

2:51